The Great Realignment
The fact that by default Basketball GM uses the same cities as NBA teams is not very fun. I'm going to change that some time soon, but I want things to go as smoothly as possible. Here's what's going to happen:
Your current leagues will remain completely untouched.
New leagues will start with a new set of default teams, unless you use a custom roster file.
There will still be 30 teams, 2 conferences, and 6 divisions. Nothing will change except some cities and names.
I will make it easier to upload a custom team info file to overwrite all team names/cities.
I am working on all of those things to make sure the transition is as smooth as possible. In the mean time, I have picked new cities. Here's what the current NBA cities look like on a map (thank you Multiplottr):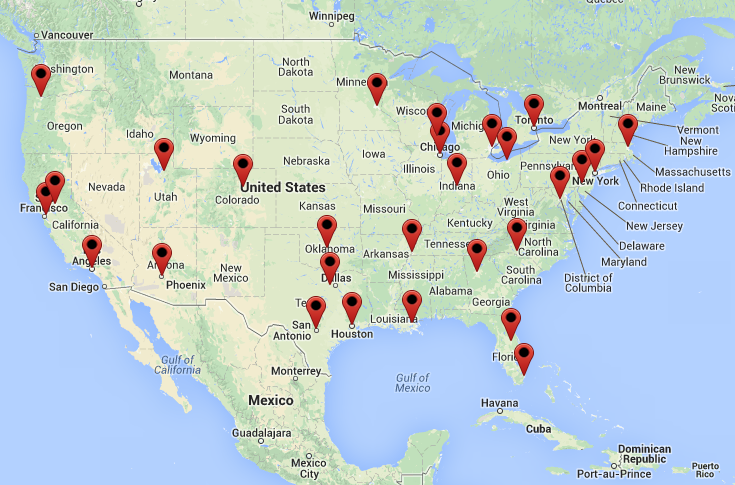 I took this list of the largest "urban agglomerations" in North America, sorted it by size, and deleted every city outside the US/Canada except Mexico City. I also deleted Riverside-San Bernardino since that seems too close to Los Angeles. That left me with a list that mostly overlaps with the NBA, with the following exceptions.
Removed: Charlotte, Indianapolis, Memphis, Milwaukee, New Orleans, Oklahoma City, Orlando, Salt Lake City, San Antonio
Added: Baltimore, Cincinnati, Las Vegas, Mexico City, Montreal, Pittsburgh, San Diego, Seattle, St. Louis, Vancouver, Tampa
This created a new, largely similar map: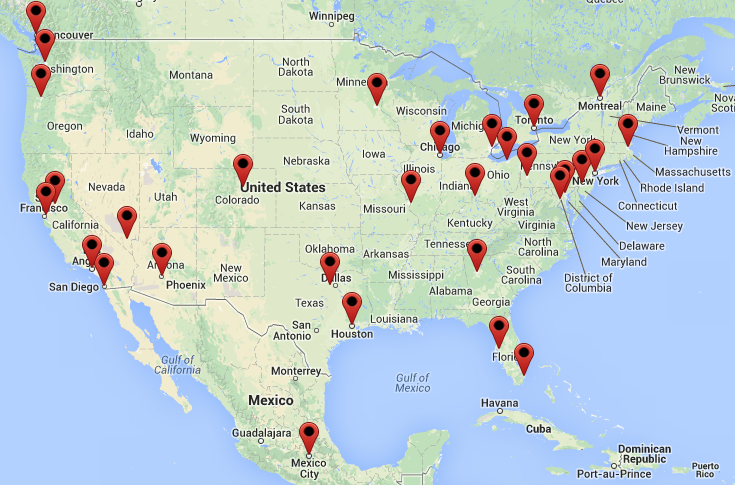 Sure, it's a little more biased towards the coasts, but I was able to come up with some reasonable divisions:
Atlantic: Boston, Montreal, New York City, Philadelphia, Toronto
Central: Chicago, Cincinnati, Cleveland, Detroit, Pittsburgh
Southeast: Atlanta, Baltimore, Miami, Tampa, Washington
Southwest: Dallas, Houston, Mexico City, Phoenix, St. Louis
Northwest: Denver, Minneapolis, Portland, Seattle, Vancouver
Pacific: Las Vegas, Los Angeles, Sacramento, San Diego, San Francisco
All of the old cities that remain are in the same conference they were originally except for Phoenix, which I had to move from the Pacific to the Southwest.
Since none of this is live yet, your feedback could still convince me to change the cities, but I'm pretty happy with them right now. What I definitely need your feedback on is team names. Each city needs a name. A good name. And, most importantly, a name that isn't too similar to the NBA team in that city. If you want to suggest the name for a city, please post here or on Reddit.
---