Posts tagged "God Mode"
---
I just deployed an update including a completely re-designed league settings page. Try it at Tools > League Settings.
Mostly this is just a cosmetic change, but it does have one functional improvement: several of the settings that were previously available only in God Mode are now available any time. Things that don't affect your ability to succeed in the game or win achievements, such as enabling the Elam Ending. Sure it changes game simulation, but it doesn't make it any easier to accomplish anything, so no advantage can be gained by toggling that option.
The cosmetic changes are:
---
I just added a fun new feature to leagues with God Mode enabled. Now you can determine who wins a game before you sim it.
On the Live Sim page you can set the winner of any of today's games: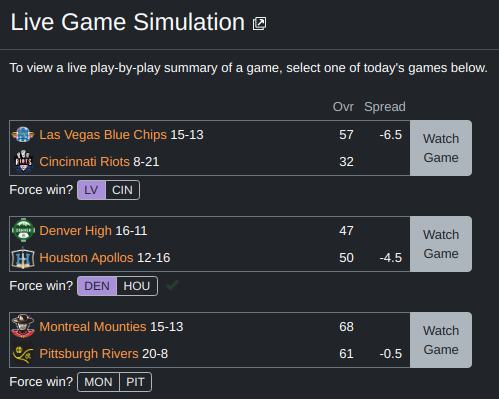 ---
At the God Mode screen (accessible from the Tools menu), there are now 10 new options you can use to customize your league:
Enable/disable injuries
Numer of games per season
Quarter length
Minimum roster size
Salary cap
Minimum payroll
Luxury tax threshold
Luxury tax
Minimum contract
Maximum contract
Previously these things were all impossible (or very difficult) to change.
The caveat is, the AI might not respond well if you change some of these values drastically, particularly the financial ones. But hopefully it's still better than nothing. Let me know how you like it!
---
Today I added a new feature to Basketball GM called Multi Team Mode. Multi Team Mode lets you to control multiple teams within a league in the same way that you control one team by default. This enables a few new ways of playing Basketball GM:
Live in-person multiplayer - two people sharing one computer can play in the same league together
Extreme control - if you want to control how other teams behave, for some reason
Online multiplayer - if you want to run a league where you are the commissioner and other people email you roster moves to make manually, you don't want AI fucking things up
To try Multi Team Mode, create a new league or load an existing league. Enable God Mode (in the Tools menu) and then a new option called Multi Team Mode will appear in the Tools menu. Click that and it will let you select one or more teams to control.
---
God Mode enables some features that are a little too close to cheating for me to want enabled by default. Specifically:
The ability to create new players (this feature has been around for a while, but now it is only available in God Mode)
The ability to edit players (available only since earlier today)
The ability to force trades to be accepted (brand new)
---