I started working on Basketball GM back when I was in college, in 2008. It was an on-again off-again hobby until 2012, when I got this crazy idea to make the whole game run in a web browser. In 2013 it got its first bit of publicity. That felt incredible at the time. I went from basically no users for years, to thousands of people trying my game in a single day! Sure, within a few days almost all of that traffic disappeared, but still! Thousands!
Social media buzz is a crazy thing. Even crazier is that in 2021, every single day BBGM gets more traffic than it did on its first "big" day in 2013.
---
In Real Players leagues, player ratings are based on player stats. It's not perfect, but it works fairly well.
Setting ratings for draft prospects is a more controversial topic, because there's no perfect way to do it. With hindsight, we know some top picks were busts and some late picks were stars. How should those players be rated as draft prospects? Should the future star be rated high like we know he eventually became, or low like he was percieved at the draft?
Previously, BBGM did real draft prospect ratings based on rookie season stats, which in practice usually turns out to be a compromise between those two extremes. Overall I'm pretty happy with that as the default, but I recognize that there is no one true way to set draft prospect ratings, it really comes down to personal preference.
That's why today I added an option for this when creating a new Real Players league. From the league creation screen you can find it under "More options".
---
Happy New Year!
I know, everybody's talking about how 2020 sucked and how they hope 2021 will be better. But it's also true that 2020 had at least one redeeming quality - it was a great year for Basketball GM! COVID lockdowns left me with more time to work on development, and it left many of you with more time to play. The end result has been a ton of new features that I won't even try to summarize here, and new records in all usage stats:
---
Following up to the recent updates that added a lot of detail to historical trades, today I added two new frivolities, in a brand new Trades section:
Biggest Trades: Trades involving the best players and prospects.
Most Lopsided Trades: Trades where one team's assets produced a lot more value than the other.
You can find them within a league at Tools > Frivolities.
---
When you make a trade in Basketball GM or Football GM, a summary of that trade is logged and shows up in the transactions list and the news feed. A mildly annoying thing about that is how it handles draft picks. Sure it'll say the trade included a 2021 2nd round pick, but if you check back after the 2021 draft, there's no new information. It doesn't say which player was selected with the pick, which makes it difficult to evaluate trades.
I've gotten many requests to do something about that, and I'm happy to announce that I have finally done something!
---
I just deployed an update including a completely re-designed league settings page. Try it at Tools > League Settings.
Mostly this is just a cosmetic change, but it does have one functional improvement: several of the settings that were previously available only in God Mode are now available any time. Things that don't affect your ability to succeed in the game or win achievements, such as enabling the Elam Ending. Sure it changes game simulation, but it doesn't make it any easier to accomplish anything, so no advantage can be gained by toggling that option.
The cosmetic changes are:
---
Today I released two improvements based on last month's player mood update related to how the AI re-signs its players, in both Basketball GM and Football GM.
First, let me explain how AI re-signings used to work. It's always been a dirty little secret that the AI did not obey the player mood system. That was true of both the old and new player mood systems. Instead, there was a single formula to give "the probability a player re-signs with a team", meant to capture both if the team wants to re-sign the player and if the player is willing to re-sign. The end result of this formula was that high value players often became free agents, but there was no way to reliably predict which players would end up in the free agent market.
To improve on that situation, today's two changes are:
---
For some reason, I decided to go through my history of blog posts, Reddit posts, and git commits and retroactively create a full changelog of Basketball GM back to the first beta of the web-based version in 2013. It was kind of fun to refresh my memory about everything that's happened so far, and it made me want to write this blog post about it.
---
I just added a fun new feature to leagues with God Mode enabled. Now you can determine who wins a game before you sim it.
On the Live Sim page you can set the winner of any of today's games: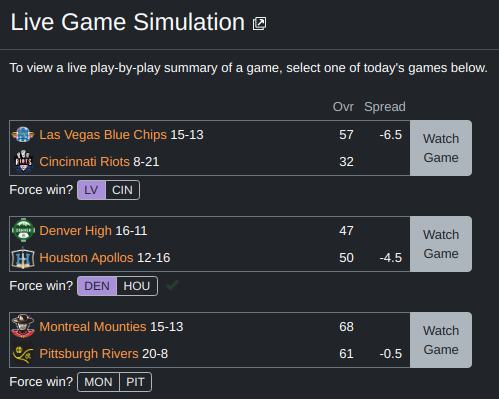 ---
Portland fans, have you ever wondered what would happen if this draft went differently?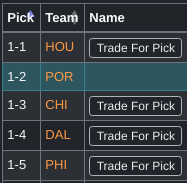 Dallas fans, have you ever wished for another shot at these playoffs?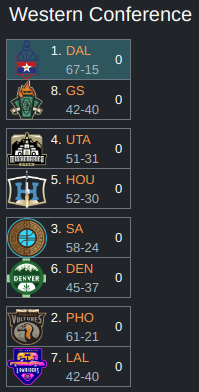 One of the fun things you can do in Basketball GM is re-run historical situations. But the ones above were tricky to do, because although you could create a league with real rosters from 1984 or 2007, you could only start at the beginning of the season. Play the whole season again and maybe Portland doesn't wind up with the #2 pick, or maybe Dallas doesn't play Golden State in the first round.
That's why today I'm releasing a new feature. In addition to being able to start each historical season in the preseason, you can also start at the beginning of the playoffs, the draft, or after the draft:

This is also true for the current season, so you can create leagues starting today, right before the 2020 draft.
Go give it a try now, or read on for more details.
---